Some of you may already know that Snowforest started to offer Google Maps Business View service about a week ago. Although it may seem like a departure from our specialties, namely, architectural and interior photography, we decided to do it because we thought it may be very beneficial to local businesses. As nowadays people would search for restaurants online before they decide where to go, shouldn't the online presence of restaurants be more and more important? Well, the answer really depends. Even Google doesn't have the data to show the benefit of this particular marketing tool. Shame on them.
So why are we doing this? Let's take a look this example I did for Jade Mountain Cafe.
1. See Inside
The first benefit of Google Maps Business View is that when people search your shop online, they would see an option to "See Inside." So people can virtually visit your shop online and decide whether they like it or not.
2. Google Maps
The second benefit is that when people search restaurants on Google Maps, they would see which restaurant has a virtual tour, which is indicated by an orange circle when the Street View option is turned on. However, I don't know how many people are aware of this option because it's turned off by default.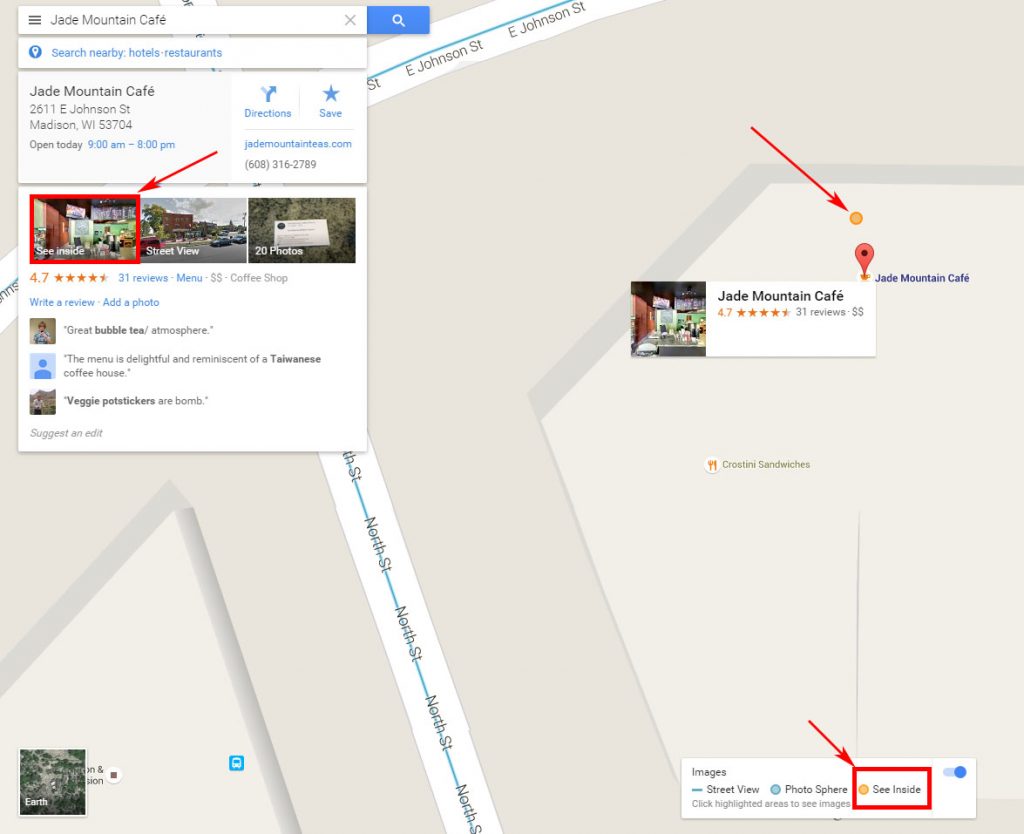 3. Embedding Virtual Tour
The third benefit is that business owner can embed the virtual tour on their website as the following if he or she likes to.
All of the above can be beautifully done by a Google Trusted Photographer like us. And more importantly, overtime these images will help boost the pagerank – if they still use this term – of the business' website. But what do business owners actually care about? More customers, of course. Can this help businesses drive more customers to visit their websites and then eventually to their stores? The answer is probably yes. But Google doesn't share the data. Instead, they provide three, yes only three, case studies, trying to convince business owners that Google Maps Business View is a great marketing tool.
Summary of these case studies:
Leekes Department Store – Business View has helped boost foot traffic to the store by 20% year by year.
NYC Restaurant Week – On average, restaurant listings that included Business View had a 30% higher click-through rate to reservations.
Just Food for Dogs – Just Food for Dogs experienced a 50% increase in click-through rate from Google search to its site since publishing Business View.
Everything sounds promising. And I believe customers like seeing these virtual tours, and these tours make the businesses look more appealing, don't they? I also believe it would help boost click-through rate, and that's why we are providing this service. But don't forget, this is only a tool. People come to your store because you have great services, great products, or great food, not because you have a great virtual tour. So I think, if you already put a lot of effort (and money) to improve your store and make your store as comfortable and nice as possible, why not make a virtual tour so that more people can see it online? Furthermore, if two stores provide services with similar quality, one has a virtual tour and the other does not, and you have never been to either one, which one would you go visit first?
Although I don't need data to answer the last question, I hope someday Google would make some relevant data or reports public. I know there are so many variables that could affect click-through rate. But doesn't Google have lots of people doing data-mining? Why can't they provide some sort of report but only three case studies? Anyway, it's beyond the scope of this post. Google being Google, they are big enough to do whatever they want. You, as a business owner, have to take any advantage from them whenever possible. In my opinion, Google Maps Business View is a great marketing tool, but it's not made for everyone.
Update (as of September 15th, 2016)
Google has retired the name "Google Maps Business View" and integrated it into Google Street View program.