This article is going to compare six visual tour services using five common mobile friendly test tools on the internet. These 5 virtual tour services are the most common marketing providers in the North America real estate industry, including: Circlepix, Paradym(VisualTour) ,matterport, My Visual Listing. truplace, TourBuzz. And the 5 mobile friendly test tools will be used are: W3C mobile Checker, MobiReady, Google Developer Tools: Mobile-Friendly Test, PageSpeed Insights and Wave.
Result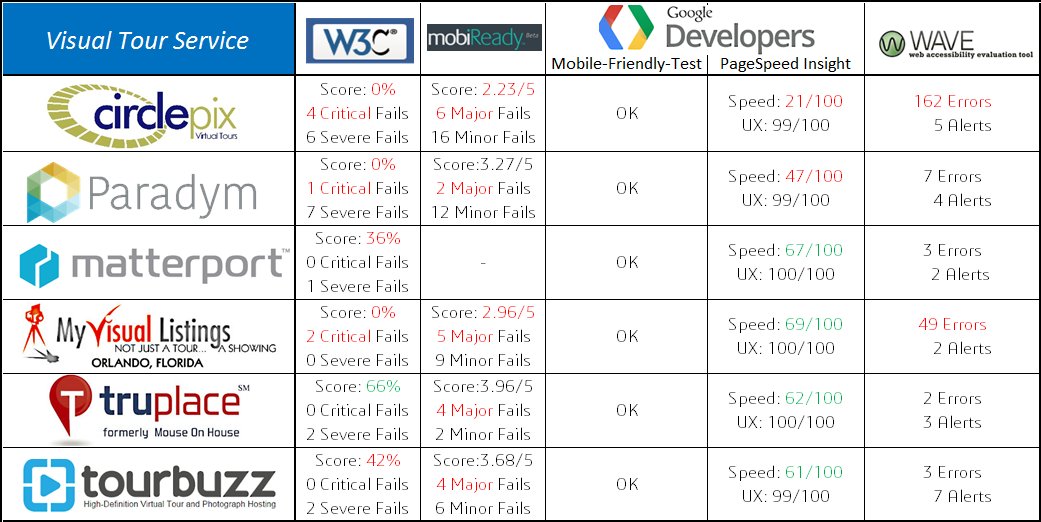 After reviewing the result, I would rank these six virtual tour services as: truplace, matterport, tourbuzz, paradym, my visual listings and the last, circlepix.
Comments & Conclusion
I have done few user experience and user accessibility researches in my graduate studies, in general, we will conduct a test in two ways: one is to apply these machine-tests to get general ideas of the interface design. Although machine-test data is quantitative and is comparable, it cannot 100% present the design's performance in real world. So, a second approach, a user interactive tests will be performed to observe how a user interacts with a design. After reviewing these two different test results, and then we would be able to rate a design.
I will write another article to compare these six virtual tour services in the view of user interactive test, but let me first explain why I would like to compare the mobile friendly tests here.
As you may noticed already, Google announced a new algorithm to rank websites early this year, that it was going to change its search patterns which would begin to include a website's "mobile-friendliness" as a ranking signal – meaning that websites which were not optimized for mobile device's smaller screens would see their page rank downgraded as a result. It definitely "OFFICIALLY" started to impact the website developers' groups to rethink a website design. BUT! If you are a realtor, you need to be more sensitive about this change. Nowadays, people rely on a mobile device to search everything is no more a secret. Let me show you two NAR research reports done in July 2013 and March 2015 as the below table. In 2013, only 8%(79%x12%) of all buyers used mobile or tablet in home search, but in 2015, the number increased up to 50% It is nearly 500% growth in the mobile search market, and this trend is going to increase for sure. That is, if your website or virtual tour service is not considering about mobile users, you need to take some action right now. Yes, I mean those realtors who are still choosing circlepix as the virtual tour! It is a warning of your poor customer service, and you need to keep up your technology up-to-date.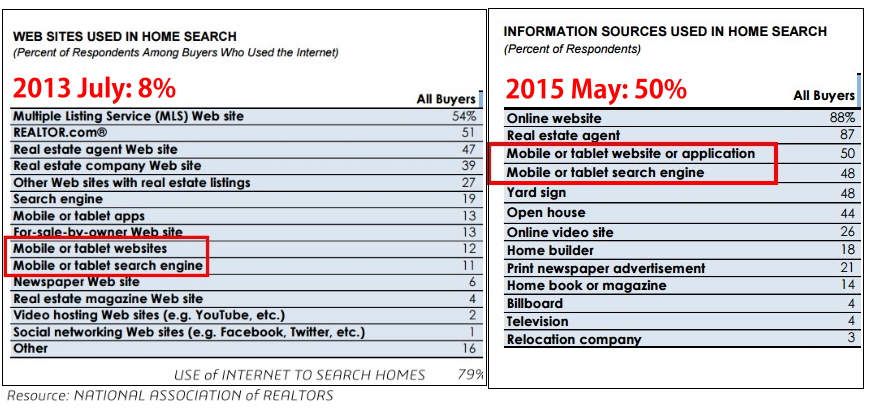 I'll post another side-by-side test report SOON!